Fanuc Repairs - Fanuc Repair Centre UK / Europe
We offer Repair Service and part testing for FANUC CNC equipment. We have test rigs to fully functionally test all equipment we offer repairs on this is the main advantage over our competitors all power supplies, motors and drives are tested under load via CNC Controls under a closed loop. No Extra cost for rush Repairs / Test normal turnaround 1-2 days including cleaning. We repair down to component level in our in-house Fanuc Repair Center. Fanuc repairs and Fanuc testing include:
Our FANUC trained technicians can repair most electronic FANUC PARTS and Printed circuit boards with a quick turn around, saving you money over purchasing new replacement parts that may be on long deliveries. Expedite services or previously repaired replacement parts may be available. All Fanuc CNC parts are repaired to factory specifications or Above. at our Fanuc Repair Centre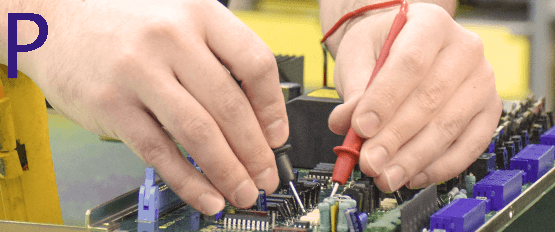 Can't wait for your CNC part to be repaired? You can still save money by purchasing Exchange Fanuc parts with the same warranty as Fanuc UK. Repaired replacement parts have the same part numbers as the new part, but with a "-R" suffix. like A06B-6096-H201#R
All GE Fanuc repairs carry a full warranty and have been tested by us at our Fanuc service center. We can offer shipment next day through most of Europe and some parts of the USA.
Need a Quick Free quotation call us +447568431113 or send us an Enquiry